Execution of electricity generating equipment
Our strength lies in the suppliers chosen and selected according to the most rigorous methods.
Based on these we have created a continuous production and assembly system, which ensures quality control and short lead times.
Chassis and housing
They are made of galvanized steel sheets, cut on computer-controlled laser, plasma or watter jet machines, heat treated and then painted in triplustart in electrostatic field.
The hinges, sealing elements, damping elements are specially designed and chosen from the automotive field with long use cycles.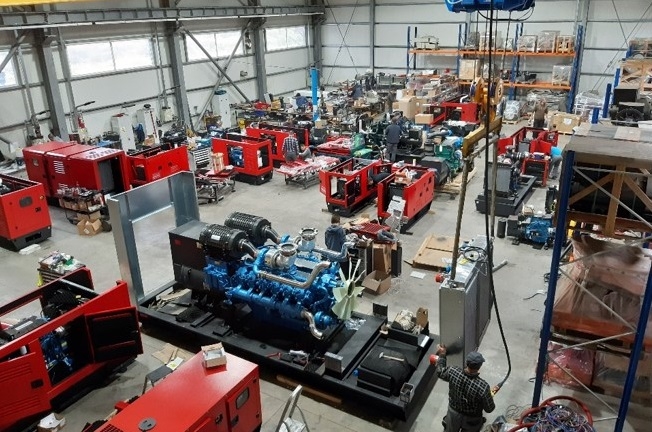 Thermal engine
Whether we are talking about petrol or diesel engines, our rigorous selection has led to the choice of top manufacturers.
So we chose the Japanese quality of Honda gasoline engines and the military performance of American Vanguard engines.
From the Diesel range the quietness and long life of the German engines is well known, so our customers are delighted to find the Dewerk, Deutz, Man and MTU engines that are at the heart of our power generators.
Iveco engines used on freight trucks have been tested and used by European hauliers for decades, so they successfully cope with our applications as well.
From the range of high quality marine applications we have chosen Doosan and Mitshubitshi engines that equip ships and boats found on the world's seas.
Perkins engines also accompany us on our road to performance.
Alternator.
We use in our production only synchronous alternators suitable for industrial applications.
They have a UL Certified Insulation System
Standards used in their manufacture: EN 60034-1, BS 4999 – 5000, VDE 0530, NF 51-100, NF 51-111, OVE M-10, NEMA MG 1.22.
Alternatoarele noastre sunt dotate cu regulator electronic tip AVR (Automatic Voltage Regulator).
Our suppliers are Stamford England, Marelli-Italy, Mecc Alte-Italy, AFA-Germany
Control and command panel
Control is everything.
Whatever your requirements, we can provide a control system to suit your needs.
Experienta noastra ne permite sa lucram cu multiplii furnizori din industria panourilor de comanda pentru generatoare de curent cum sunt Deep Sea, Kuhse ,Comap, Woodward, Datakom.Echipa noastra de automatizari poate proiecta si implementa sisteme de control personalizat indiferent de complexitate.
Our wide range of power management control systems include:
• Synchronisation of two or more generating sets
• Cogeneration and Trigeneration
• Intelligent transfer systems
• Human Machine Interface (HMI)
• Protocols C-bus, Profibus
• Remote monitoring – from simple alarm events to BMS (Building Management System) integration
• Dedicated applications with PLC (Programmable Logic Controllers)
Electrical installation
The electrical installation is the "blood vessel" of the power generator.
So we chose multi-wire copper conductors, protected by a flexible sleeve and preset when moving from one compartment to another.
We use stanby charger for oversized battery as well as heater for coolant for an easy start regardless of the season.Also through our own innovation system we can provide heating of oil and fuel.
The electrical appliances are supplied by world-class manufacturers such as Moeler, Simens, ABB, Finder, LG, Schneider.
Overload and short-circuit protection is our standard feature, so every product is supplied with circuit breakers as standard.
Also for extra protection and quick maintenance we have patented the bypass panel: ENDRESS – Patent OSIM 0010 / 2012
ZENESSIS generating sets are compliant and bear the marking
Reference environmental conditions: 1000 mbar; 25ºC; 30% relative humidity; power according to ISO 3046.
Prime power (PRP) – ISO 8528
"Prime power" represents the maximum power available during a variable power sequence, which can be used for an unlimited number of hours in a year, within the required maintenance intervals. Average power within a 24 hour period will not exceed 80% of prime power; 10% overload – available for regulation purposes only.
Standby power (ESP) – ISO 3046
"Standby power" is the power available for use at variable loads for.. Limited annual time intervals (500 hours), within the following limits of maximum usage time: 100% load – 25 hours / year; 90% load – 200 hours / year. Overloads are not allowed. Applicable in case of power outages from the main grid in areas with a secure power grid.